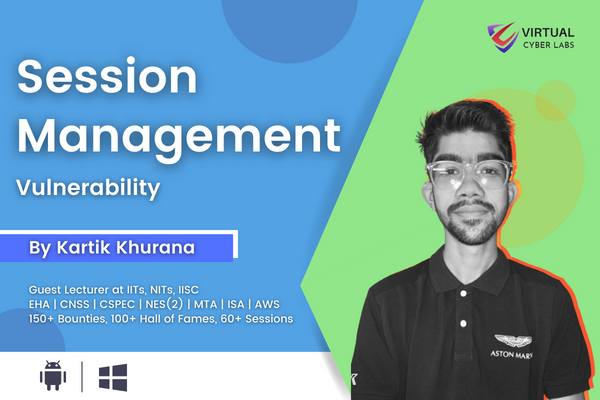 Session Management Vulnerability
Welcome to Session Management Vulnerability Course. This course covers web application attacks related to Session Management vulnerability and how to earn bug bounties. There is no prerequisite of prior hacking knowledge and you will be able to perform web attacks and hunt bugs on live websites and secure them
This course is not like other hacking or penetration testing courses with outdated vulnerabilities and only lab attacks. This contains maximum live websites to make you comfortable with the Live Hunting Environment.
Starting from Basics of Session to different types of session attacks, This is a fantastic course for you if you are someone who is interested in easy and assured bug hunting rewards.
With over 7+ Modules and 12+ Videos of every theoretical and practical aspect of No Session Management Vulnerability, this course comes with Live Doubt solving by your mentor Mr. Kartik Khurana, who will be guiding you to every step.
This course will start from basic principles of each vulnerability related to Session Management and How to attack them using multiple bypass techniques. In addition to exploitation, you will also learn how to fix them.
This course is highly practical and is made on Live websites to give you the exact environment when you start your penetrating testing or bug hunting journey.
We will start from the basics of Session to the exploitation of vulnerabilities leading to Session Hijacking on live websites.
This course is divided into a number of sections, each section covers how to hunt, exploit and mitigate a vulnerability in an ethical manner.
After identification of a vulnerability, we will exploit it to leverage the maximum severity out of it. We will also learn how to fix vulnerabilities that are commonly found on websites on the internet.
In this course, you will also learn How you can start your journey on many famous bug hunting platforms like Bugcrowd, Hackerone, and Open Bug Bounty.
Along with this, you will be able to hunt and report vulnerabilities to the NCIIPC Government of India, also to private companies, and to their responsible disclosure programs.
You will also learn Advance techniques to bypass filters and the developers logic for each kind of vulnerability related to Sessions. I have also shared personal tips and tricks for each attack where you can trick the application and find bugs quickly.
This course also includes important interview questions and answers which will be helpful in any penetration testing job interview.
Introduction to the Course

Session Management Vulnerabilites

Impact of Session Management Vulnerability

Recommendations to stop Session Management Vulnerability

How to Report a Session Management Attack