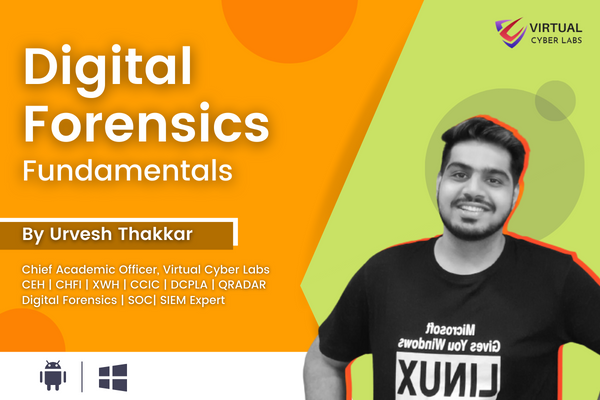 Digital Forensics Fundamentals
Welcome to Digital Forensic Fundamentals – this course is specifically targeted for beginners who want to understand different verticals of Digital Forensics. In this course, you will understand the roots of Digital Forensics. This course will act as a strong conceptual base for the ones who want to enter the domain of Digital Forensics.
In the first chapter, we will explore Digital Forensics at a surface level. Starting from its definition in simple terms and even the fundamentals in simple layman terms.
Now only the fundamentals we will understand core base concepts such as Digital Evidence Lifecycle, information about various sources of digital evidence, data acquisition guide and more. This course also includes very simple fundamental practical topics like creating Disk Image for forensics, computing hash of files and more.
Apart from the existing content, there is a promise that Virtual Cyber Labs makes to you. This course and all the future updates and extra content will be freely accessible for everyone without any cost. We hope you enjoy this course!
Introduction to Digital Forensics

Digital Evidence Lifecycle

Creating Disk Image using FTK Imager

Opening a Disk Image in FTK Imager

Calculating Hashes of Evidence Files using HashCalc

Analyzing Files Based On Their Headers