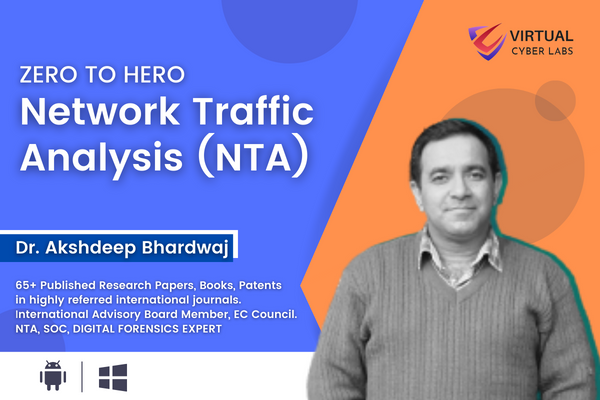 Zero To Hero: Network Traffic Analysis
Welcome to the ZERO to HERO: Network Traffic Analysis course. This basic to advanced course covers network traffic capture, filtering, and analysis to determine deep insights and solve network attack-related issues. This course is unlike any other network course as we'll be looking at real-time scenarios and analyze traffic as you would do in corporate IT security teams. This course is practically based and comprises live traffic analysis to help you start your Traffic analysis career.
Prerequisites include having your own virtual machine running Windows 10 OS with admin level access, basic level knowledge of networking; ideally, you should have some hands-on experience of working and handling network infrastructure.
You'll get to learn how do Systems talk to each other over a network (remember Three-Way Handshake)? You get to see this in real-time. Apart from learning how to capture and analyze real-time traffic, you get to understand Clear Text and Encrypted Communication protocols. The course is integrated with Network Analysis Scenarios such as identifying malicious Host (infected machine) with Keylogger, Searching for scan attempts on the network, or Investigating Hacking or network flooding attempts among others.
Network traffic analysis is the process of listening to and analyzing network traffic. Network analysis offers an insight into network communications to identify performance problems, locate security breaches, analyze application behavior, and perform capacity planning.  Network traffic analysis (or protocol analysis) is used by IT professionals responsible for network performance and security.
Whether you are completely new to network analysis or just returning to refresh your network for setting up servers, re-architecting/redesigning the company's IT Infra to support a new security system being planned, deploying Voice over IP, or facing staff complaints about the network access being slow or even working with ISP to resolve WAN issues by jumping through hops and routers.
What makes network traffic analysis technology particularly meaningful is its ability to combine its core capabilities to deliver malicious intent detection. Prior to the emergence of NTA products, intent detection was a time-consuming, non-replicable process that required a high degree of skill, with security professionals struggling to express the anomalies they needed to look for in a way that could be automated through their security technology stack.
With this course, you get 24/7 support, so if you have any questions you can post them in the Q&A section and we'll respond to you as soon as possible.
Note:
●    This course is created for educational purposes only and the traffic analysis is performed for the learning experience only.
●    Running traffic analysis or capturing traffic of websites is unethical and against the law, the author doesn't hold any responsibility.
Who this course is for:
●    Anybody interested in learning networking, network traffic analysis.
●    Trainers who are willing to start teaching network analysis.
●    IT Network Professionals, SOC Analysts, Ethical Hackers seeking to learn network analysis.